※ Strong compressor refrigeration technology with adjustable temperature from 0℉-50℉.
※ AC and DC cables are included in the original package, DC Power Cable for Car (12/24V); AC Adapter for Home Socket (110-240V).
※ MAX Mode for Fast Cooling. ECO Mode for Energy Saving.
※ 3 Level Voltage Battery Protection: prevent the car battery for running down.
※ Work normally within 30° bumps, easily handle muddy mountain roads or steep valleys, perfect for Overlanding.
※ 3 years warranty on compressor and 1 year for other parts. LA local after-sale service.
Temperature Range
It can cool from 0℉ to 50℉, which can keep vegetable fresh and meat frozen.
MAX or ECO Mode
MAX mode for fast cooling and ECO mode for energy saving.
Anti-shaking
This freezer can keep running in slopes under 30 degrees and presents excellent performance.
FREE SHIPPING
We provide free shipping of mainland USA.
WARRANTY SERVICE
We provide 3 years warranty on compressors and a year warranty on the other parts.
100% MONEY BACK GUARANTEE
Customers have the right to apply for a return within 30 days after delivery the product.
Quiet and Cool
Seems to be more than expected, works well. Setpower's web site states 3 year compressor warranty, although the manual states 2 years?
The optimal fridge for me
This is my 3rd 12v compressor fridge, and while they've all performed well, this one really shines. The AJ30 is exactly the right size for me - not too big, not too small. Big enough to hold a bottle of wine standing up, but small enough to make a nice seat or picnic table. I love that it has two cold zones, one a bit warmer than the other. The small one is great for vegetables and things you don't want to freeze.
Other pluses:
• Removable Handles
• "Don't leave open" leash, that's easily undone so you can have the lid open to load it.
• 12v socket adapter - can be used for anything that draws less than 6amps! Nice bonus.
• Of the three fridges I've owned, this one has the best manual and online support. Setpower seems like they're actually going to be there for people.
• Really fast - cooled down from room temp in 15-20 minutes.
Cons:
• Temperature varies a bit. Set it at 37F and it might cool down to 33F. (They all do this).
• It's a little bit loud. 45-55db when it's first cooling. Not a big deal.
I love it. And I'm not just saying that because they provided a unit to review - it really is amazing, especially for the price.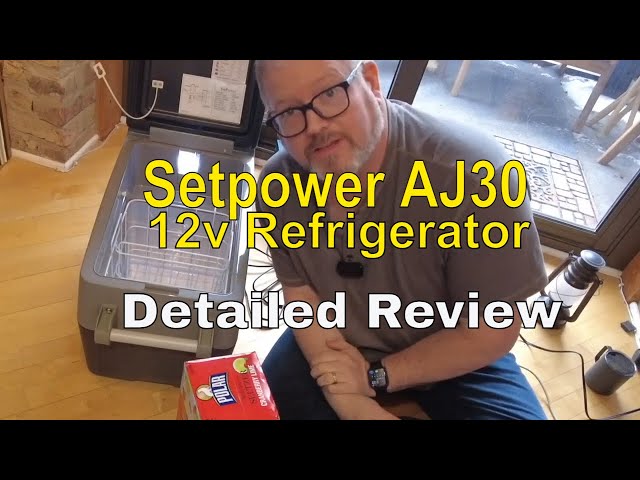 works good
I used it with my 1955 Shasta trailer it has a 100 w solar panel and a walmart deepcell battery I had it out on the Owens Valley desert in August and it worked very well didnt drain the battery and kep my stuff nice and kool
Christmas Present
I can't fairly review this item at this time. It is a Christmas present for my daughter. She picked it out, mom bought. Lol