Setpower RV45S car fridge is made by aluminum, which makes it more durable and stable.

RV45S car refrigerator can work normally within 40° bumps, which is easily handle muddy mountain roads or steep valleys.

The MAX mode of our RV45S car refrigerator helps it to reach the setting temperature faster. The MIN/ECO mode helps to save more energy.

RV45S car fridge has two steel spring latches, a built-in LED light, and two baskets.

Our RV45S car fridge is equipped with a powerful compressor for fast cooling that can reach 0℉ within 30 mins in MAX mode (from laboratory data). The power consumption is about 0.689 kw.h/24h.
Accessories for RV45S Car Refrigerator
SetPower focus on doing better. We hope to bring more fun and convenience to outdoor life.
※Insulation & Waterproof
※Durable and Foldable
※Expanded Bag for Accessories
※Attention: This insulated bag is ONLY suitable for SetPower RV45S Car Refrigerator
Buy it separately!
※ Perfect for SetPower RV45S Car Fridge.
※ Metal material, a very solid product.
※ Dimension(L*W*H): 27.6*17.6*2.6"
※ Comes with 4 tie-down straps to keep your fridge/freezer secure.
Buy it separately!
While I have limited use on it soon after receiving it, I must admit it is a very nice product. Works really well and as advertised. Quality appears to be top notch. It will be getting much more use going forward and I am glad I bought it.
SetPower 47Qt 12V - Initial Review
Fast shipping, excellently packed. I've had it puugged in for about two weeks or so and it seems to be doing fine. My only concern is the accuracy of the temp readout. I'm not positive that it is correct. I have two laser temp probes and they indicate that it is running at between 6-8 degrees warmer than the readout indicates. I'd like to know how to calibrate that, if possible. If not, I suppose I'll just set it to 8 degrees cooler than I want.
The Setpower RV45s is a solid well built portable fridge/freezer
I bought the Setpower 45s fridge/freezer after reading lots of online reviews and Youtube videos. Shipping was quick, it was well packed and easy to setup with my solar generator. After setting it up and running it for several hours, I found that the temperature display was not calibrated to the internal temperature as closely as I would like. I found a Setpower Youtube video on the RV series and it showed how to calibrate the temperature. I used a digital thermometer over the course of several hours and was able to set the display to within two degrees F. Since there is some fluctuation depending on what is loaded inside as well as ambient temperature, this is quite acceptable.
The folks at Setpower would do well to rewrite the user manual and include a written tutorial in the manual. It would probably make themselves and customers happier if they included links to their Youtube tutorials on their website and in their manuals.
A happy camper.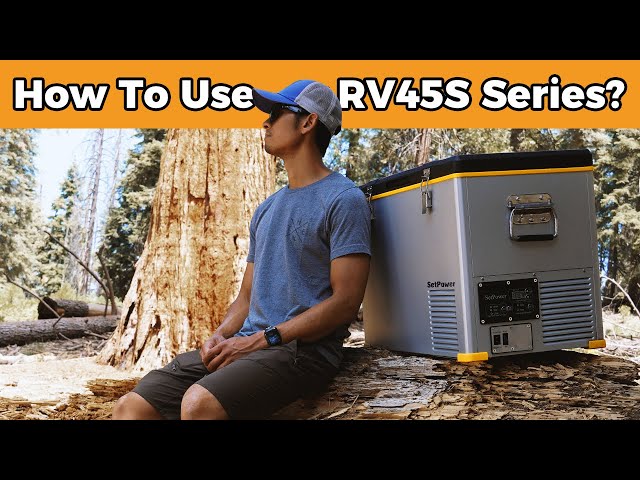 Setpower 47Qt 12V Car Portable Freezer RV45S
Love it
Just buy it. You won't be disappointed.