SetPower Prime Day Sale From June 18 To June 25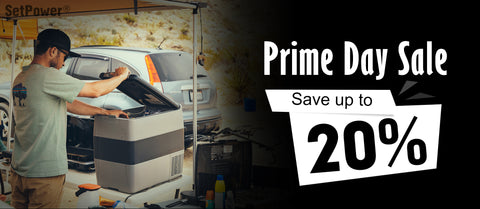 Amazon Prime Day is just around the corner!
Setpower is providing a mega deal of up to 20% off on all products for Amazon Prime Day on June 21 and 22. Mark your calendars as you do not want to miss this great opportunity to score a portable fridge and freezer with the best deals at an affordable price.
What is Prime Day?

Prime Day is the equivalent of Black Friday for Amazon that offers the biggest deals among retailers. Prime Day started back in 2015 to celebrate of Amazon's 20th year anniversary. It was such a hit to keen shoppers that it turned into an annual holiday event.

When is Prime Day?

To be precise, Prime Day begins at 12 a.m. PT / 3 a.m. ET on Monday, June 21 and ends at 11:59 p.m. PT / 2:59 a.m. ET on Tuesday, June 23.

How to Get Prime Day Deals?

Only Amazon prime members have access to Prime Day deals.
Fortunately, Setpower website do Prime Day Sale as well! And our promotion time is not only 48 hours, our promotion will last until June 25th.

Remember to use code "PRIME" on checkout to save up to 20%.
For RV45 SERIES, use code "ENJOY LIFE" to save 12%.

Happy shopping everyone!