Our first ever dual zone refrigerator is coming!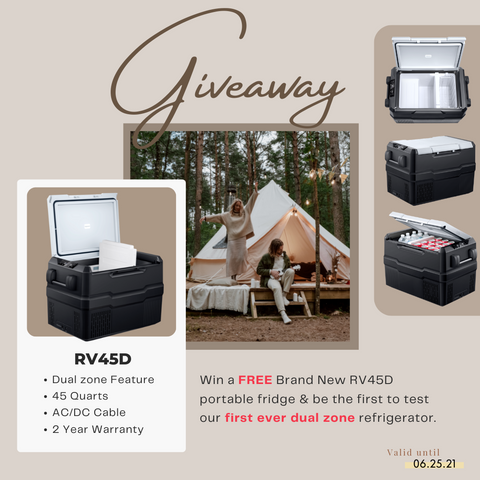 Setpower is finally having its the first ever dual zone portable refrigerator and we want you to be one of the first people to try it out. This way, we can get more transparency and have real customers give us their insight on how the fridge worked out for their lifestyle. Hence, we will start off our summer by giving away a FREE RV45D portable fridge to a lucky supporter and randomly pick the winner from those who join our contest.
How to Win the Brand New Fridge?
1. Follow us @setpowerusa on Instagram
2. Repost the giveaway post on Instagram and make sure to tag #setpower
3. Tag 2 people in the comment section of the Instagram giveaway post
As part of becoming our Setpower refrigerator tester, the winner of the giveaway will have to agree create a short article about the fridge. We also request at least 20 photos that we can use for our social media and website which we will of course credit your work.
What Makes the RV45D Special
As mentioned above, the RV45D is the first portable fridge by Setpower to have a dual zone feature. This means that this will give you freedom to choose to use your fridge as both a refrigerator and freezer at the same time. Yes, that means you can make ice and freeze your meats while you have some fresh cold drinks in there.
What is included in the package?
Inside your package, you will find your refrigerator, a basket, a manual, AC adapter and a DC cable. Just like any Setpower fridge, you can plug your fridge into a AC or DC power outlet so that you can use your fridge while you are on the road.
Specifications
Size and space definitely matters when camping or living in a vehicle so this can help you decide whether this fridge meets your needs. The dimensions for the RV45D are 25.4×16.7×17.3 inches with a capacity of 45 quarts.
Warranty
Most Setpower products have a 2 year warranty for the compressor and 1 year warranty on all other parts. This will also apply to the RV45D so you can purchase the fridge knowing that the company will be there for you when needed.
Welcome to leave a comment to tell us what you are the most interested in our RV45D new model,thank you!